Setting Business Goals That Will Take You Where You Want To Go
Having a Clear Business Plan Will Lead to Achieving Goals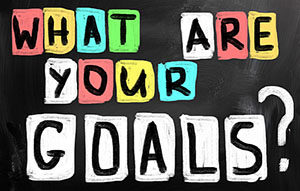 Whether you're a one-man shop or a small business with several employees, setting business goals is necessary for success, especially in the first several years of operation. Knowing where you want your business to be, and how you plan to get there, can help you achieve success more quickly and instill confidence in employees, customers, and other stakeholders.
Creating a comprehensive business plan can be intimidating, but it doesn't have to be. Set smaller, achievable objectives to make the process less overwhelming; you can create business goals in virtually any area:
Operational: Improving efficiency can help you dramatically reduce overhead costs. Explore new tools and resources to help you streamline operations. Start by analyzing the current time and costs associated with tasks such as bookkeeping, payroll, tax filing, and other necessary business operations. How can you make these tasks more efficient? Consider outsourcing, especially if you are doing this work yourself. As a business owner, you should spend your time developing and implementing strategies for growth, not handling the mundane (but necessary) day-to-day tasks.
Sales: For most businesses, this is the key metric that defines success. Set monthly or quarterly sales goals that include plans for growth. Work with your sales team to set goals that are both realistic and challenging. Your employees will thrive when they know what is expected of them, and everybody will benefit from the financial gains.
Marketing: Increasing sales requires targeted marketing. Setting concrete business goals such as increasing website traffic, bringing strategic allies on board and expanding your social media presence are effective ways to keep marketing efforts on track.
Financial: Set targets for both short and longer periods of time. When you set financial business goals, it's important to understand the steps and costs associated with getting there. Working with a qualified financial planner can help you set realistic goals that will result in profits.
Personal: Don't forget yourself!  You need to have personal goals that you can achieve due to the success of your business goals.  If you can dream it, you can achieve it.
The professionals at Next Level Accounting & Tax can help you create a solid business plan that includes tax strategies and much more. Contact us today to schedule a consultation.