Your Family Oriented, Faith Based, CPA Success Partner

Dedicated to Service
With over 20 years' experience, our commitment to excellence is evident through our continual investment in professional continuing education, state-of-the-art computer technology, and extensive business relationships. We understand the importance of staying ahead in an ever-evolving industry. We prioritize staying updated with the latest trends, regulations, and technology to provide you with cutting-edge solutions.
Collaboration
In partnership, we work with you to achieve your goals, exchange ideas, hash out new strategies to solve new issues and work together to improve financial growth and prosperity.
Accountability
We hold ourselves accountable, not only to you, but to ourselves. Accountability requires mindfulness, acceptance, courage and honesty.  We deliver our very best in all we do, holding ourselves accountable for the results not only in why we do but for what we don't do.
Work * Life * Balance
Work, life, balance is important. Our team members strive to make a difference in the community, while taking the time to balance their work and fun time.

Listen & Learn
We'll start with a one-on-one meeting and talk about where you're at now and where you want to be. There are certain things we need to know. It's all about you.
Identify Problem Areas
Every business has it's ups and downs. By determining your problem areas we can focus on how to fix them
Find Solutions
Once we've found your pain points we can start working on how to relieve them.
Action Plans
Having identified the solution, we will design and implement an action plan, tailor made for your business.
Keeping on Track
With the plan in place, it's your job to make it work. It falls to us to keep you on track and accountable.
Reassessment
With the plan in place, it's your job to make it work. It falls to us to keep you on track and accountable.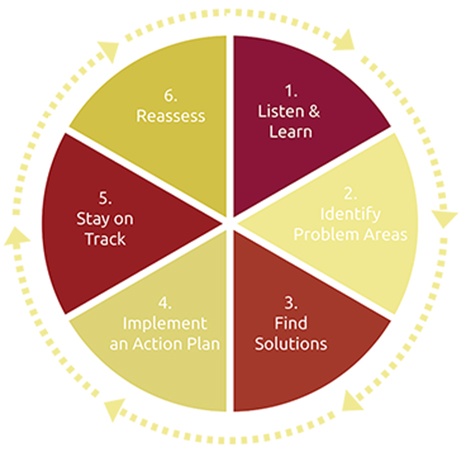 What Our Clients Have to Say
Ferguson Property Management
I've worked with Keith for several years for accounting and more recently, bookkeeping services. He is always available and responsive. His knowledge and experience have made him an invaluable business partner.
David M
4 Years working with Keith for both business and personal. I find he is great to work with, patient, knowledgeable and good price/value for services provided. Very satisfied.
Donna Hogue
I have had the pleasure of working with Keith Huggett for over three years. I met him when my corporation came up against a complicated California Sales Tax issue. His expertise got everything resolved with a minimum amount of stress. I then signed on to have him do my monthly accounting and year end taxes, both personal and corporate.  I feel confident that his ever knowledgeable regarding the latest tax laws and has saved me money and helped me make a tax plan for the future.
Cynthia Brown
I highly recommend Keith Huggett if you are looking for a true, honest, knowledgeable partner for individual and business needs.  I have been with him for over 5 years.
Nehal Patel
Keith has helped me out for the past 5 years.  He is professional and provides a quick turn-around on getting me taxes done.  He has also been very helpful in assessing and navigating changes to financial situation.
DS Popa
Nice, friendly, helpful and competent personnel, ready to solve your problems. Keith is one of favorite business partners.
Lori Phelan
Keith has been my CPA for my personal and business taxes for many years. He is very knowledgeable. I highly recommend him.
Ryan Leask
Always very thorough and fast, has provided helpful advice on tax implications for real estate investing and also provided support when I received a Notice of Deficiency from several years ago.  He helped me prove it was an IRS mistake and how to work with the US Tax Courts, etc.  I highly recommend.
P Davis
Keith was very thorough and answered all of our questions. Taxes are never fun but Keith made the experience as less stressful as possible.
Michelle Tung
Keith is always very helpful and patient with assisting me in preparing my taxes. He is up to date with information that can affect taxes and makes sure to inform me of the tax changes that could impact my tax filing. He is very professional but interacts with you in a way that isn't impersonal and makes you feel very comfortable. I would not hesitate to recommend him to my friends and family.
Kimberly Hayes
Keith is by far the best accountant I've worked with. I refer all of my clients to him without hesitation.
Arthur Chan
Professional service is great. bur website is very hard to use email through the website does not work, no reply or response had to call to get answers
Phone
(916) 960-9800
Fax
(916) 415-8273
2 Locations to Serve You
508 Gibson Drive, Suite 240
Roseville, CA 95678
31495 County Road 31
Greeley, CO 80631
Hours of Operation
8:00 am - 5:00 pm
Monday - Friday