Just the Basics – IRS Form 1099-Misc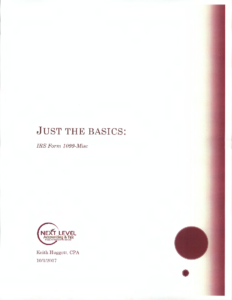 Have questions about 1099s? What are they, do I need to send them out this year?  Find the answers to these questions and more with this complimentary whitepaper from Next Level Accounting & Tax.
Inside:
What is an IRS Form 1099-Misc?
Who Must File
Trade or Busines Reporting
Exemptions to the Rules
Penalties
Get the basics regarding IRS Form 1099-Misc.  Gain understanding of why you should do the paperwork on time.  Don't let this important requirement slip away from you.  Stay current and save your money.  Download this complimentary whitepaper today.
Download Your White Paper