Facts About Identity Theft
Identity Theft Complaints Count from California Victims = 54,744
Identity thieves are brazen. $16 billion was stolen from 15.4 million U.S. consumers in 2016, compared with $15.3 billion and 13.1 million victims a year earlier. In the past six years, identity thieves have stolen over $107 billion.  In California alone, 54,744 complaints were filed by victims of identity theft.
Here are some facts you may not wish to know about identity theft.
Identity thieves will go through your garbage, not only at your home or business but in the dump as well.
Signs to look out for –

Unexplained bank withdrawals
Missing bills
Credit report changes
Debt Collection calls for accounts you don't recognize
Notification from the IRS that you have filed more than one tax return in your name, or that you received income from an employer you haven't worked for.
Preapproved credit card mailers – shred or else thieves can use the materials and try to activate the card for their own use.
Criminals have used the Internet to obtain identifying data, such as passwords or bank account information.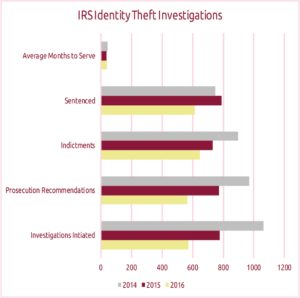 For several years, the IRS has fought aggressively against refund fraud, which includes identity theft. In 2015, the IRS rejected or suspended the processing of 4.8 million suspicious returns. So far, they have stopped 1.4 million confirmed identity theft returns, totaling $8 billion. Additionally, they stopped $2.9 billion worth of refunds in other types of fraud. That's a total of $10.9 billion in confirmed fraudulent refunds protected.
A few steps to take to protect yourself:

Lock your mailbox and be sure to stop mail when you're on vacation for more than a few days.
Shred your trash with a cross cut shredder.
Be careful the information you give out about yourself in public, especially while on your cell phone.
Protect your computer with a firewall, anti-virus software, and a spyware remover.
Should you have any questions, please contact us.  Next Level Accounting & Tax would be happy to assist you with any tax related identity theft issues you may have.